(WTXL) — A new survey shows most Americans questioned think Rep. Marjorie Taylor Greene (R-Ga.) is more representative of the Republican Party than Rep. Liz Cheney (R-Wyo.), further proving the rightward drift of the GOP.
According to the Quinnipiac University poll released Wednesday, 28 percent of Americans think Greene more closely represents the GOP; 25 percent said that about Cheney.; 47 percent did not offer an opinion.
Greene made headlines over past remarks calling for violence against Democrats, claiming school shootings were staged and suggesting wildfires were caused by a secret space laser. She also promoted baseless QAnon conspiracy theories. The House, including members of her own party, voted to strip her of her committee assignments.
Cheney has drawn fierce pushback over her January vote to impeach then-President Trump for his role in inciting the Jan. 6 riot on Capitol Hill. That vote resulted in censure from the Wyoming Republican Party and House conservatives attempted to remove her from her leadership position.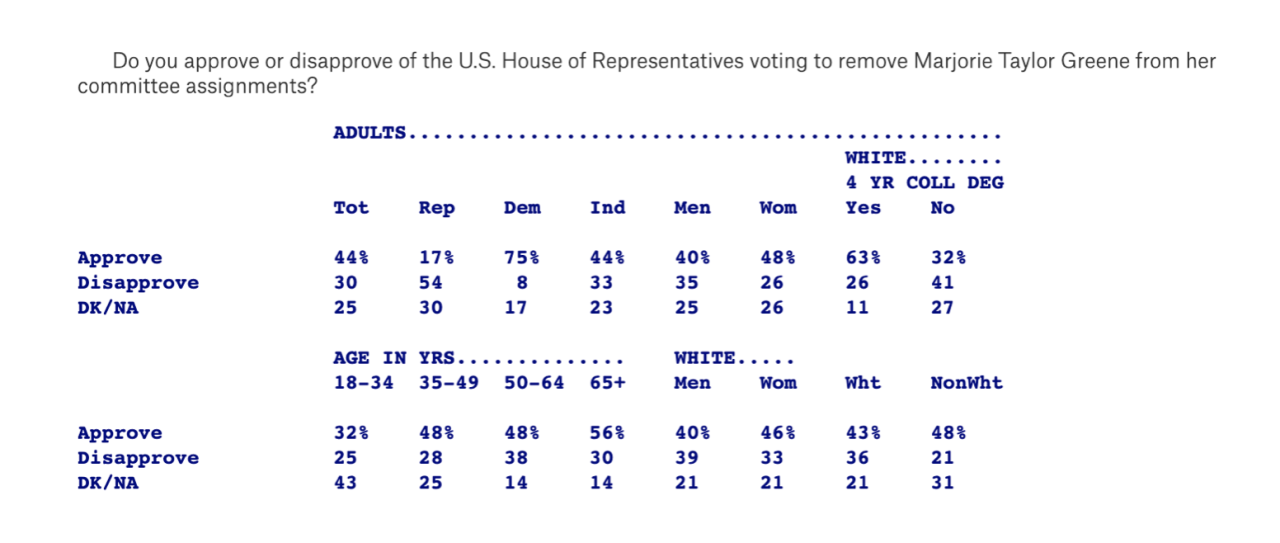 A slight majority in the survey, 52 percent, said they still have not heard of Greene. Only 9 percent had a favorable view of her, compared with 38 percent who had an unfavorable view.
Greene's favorability rating is in the single digits among Democrats and Independents, but 17 percent of Republicans hold a favorable view, compared with 20 percent who have an unfavorable opinion.
Conversely, Cheney's vote to impeach elevated her standing nationally among Democrats while causing Republicans to sour on her.
Twenty-seven percent of Americans overall have a favorable opinion of her, while 19 percent have an unfavorable opinion. Forty-six percent of Democrats view her favorably, 9 percent view her unfavorably, and only 7 percent of Republicans have a favorable opinion of the former Vice President's daughter.
When asked who should have a bigger role in the GOP moving forward, 45 percent of all respondents said Cheney, 14 percent said Greene. Republicans asked the same question said 25 percent want to see more of Greene while 22 percent said Cheney.
The Quinnipiac University poll surveyed 1,056 adults from Feb. 11-14 and has a margin of error of +/- 3 percentage points.