MIRAMAR, Fla. (AP) - Police say the dog that killed a Florida baby was a pit bull.
Miramar police said 8-month-old Liana Valino was sitting in a bouncy chair in a bedroom at her paternal grandparents' home in suburban Fort Lauderdale when she was attacked by the male dog, which is about 4-years-old.
The girl's 24-year-old mother, Brenda Villasin, told reporters she dropped the baby off in the morning before heading to work.
The dog and two pit bulls owned by the family were taken away by animal control officers. No decision on their fate has been made.
---
MIRAMAR, Fla. (WPLG) - An 8-month-old girl was killed in a dog attack Wednesday in Miramar, police said.
The attack was reported at a home in the 2400 block of Kingston Drive.
Miramar police confirmed that the infant was killed by her family's pit bull while she was in the care of her grandmother. The baby was sitting on a bouncy chair in a bedroom when she was killed, authorities said.
"This child is only eight months old," Officer Yessenia Diaz said. "It is very difficult for the entire department and our heartfelt sympathy goes out to the entire family."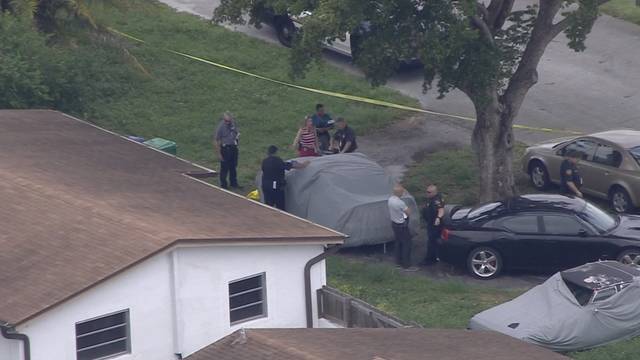 Sky 10 was above the scene at 12:30 p.m. as authorities had the home blocked off with crime scene tape. Animal control vans were parked outside the home.
A woman, possibly the victim's mother, was being consoled by officers.
Miramar police said the pit bull that attacked the baby is between 3 to 4 years old. It was removed from the home by the Broward County Animal Care and Adoption Division, as well as two other dogs at the home, police said.
"Children play and sometimes dogs don't understand that," one neighbor, Jackie Knapp, said.
Copyright 2018 by WPLG Local10.com - All rights reserved.